More info
Applications
Benefits
Off-road traction
Wear resistance with anti-cut and anti-chipping performance
Comfortable Off-road Tyre
Good mileage performance
Aggressive pattern and side design
POR stamped
Features
Wide tread with aggressive, symmetric block pattern
Attractive sidewall design through extension of tread design
High density compound with new triple polymer blend
High-durability Construction for off-road performance
Aggressive Block Pattern contributes to better performance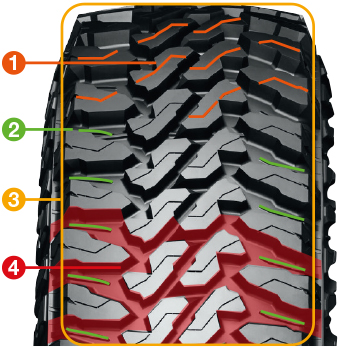 1) Optimised sipes
2) Mud and stone ejectors
3) New Pitch Variation
4) Optimised lug groove
Tread design extended to sidewall for Appearance, Durability and Off-road traction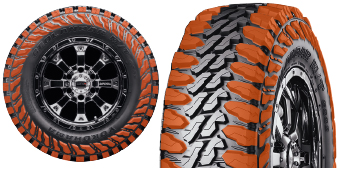 The attractive wide tread side design extends from the tread, enhancing the deep mud traction and improving side cut performance.
For durability and off-road traction.
Nylon full vover and wide tread profile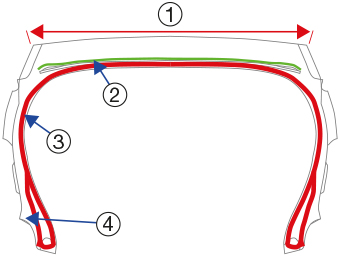 1. Wide Tread
2. Nylon Full Cover
A nylon full cover improves tread area damage.
3. 3PLY construction (LR-E sizes)
Improving anti side cut performance.
4. Rim Protector